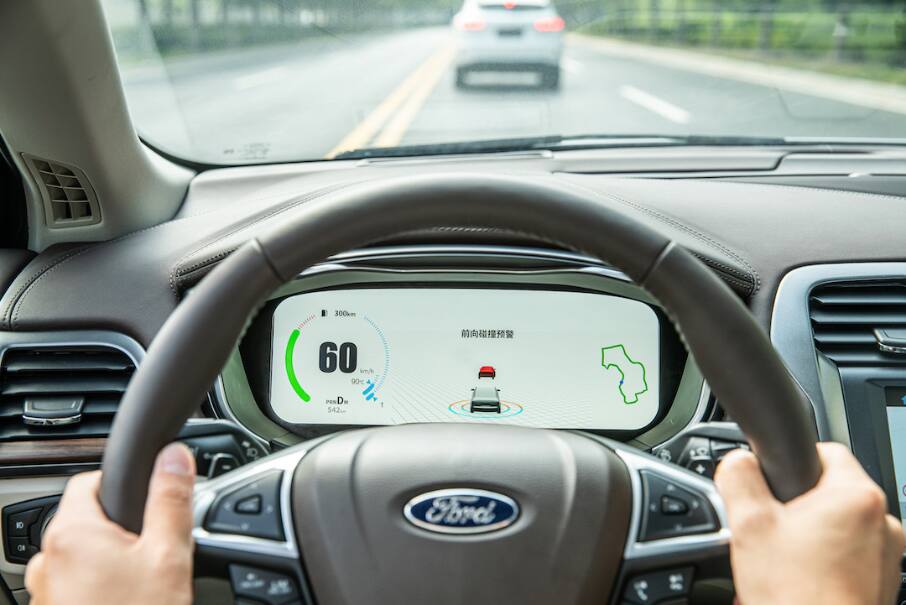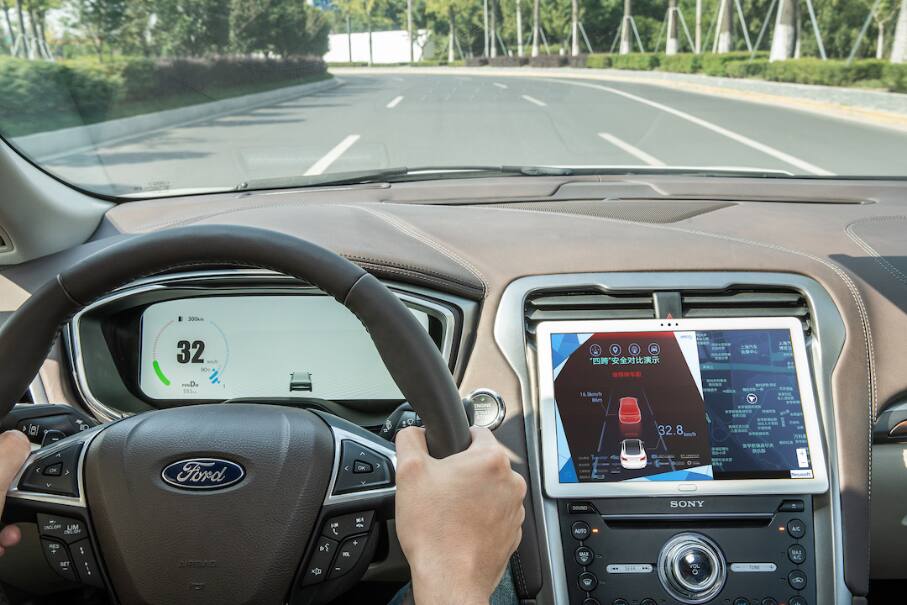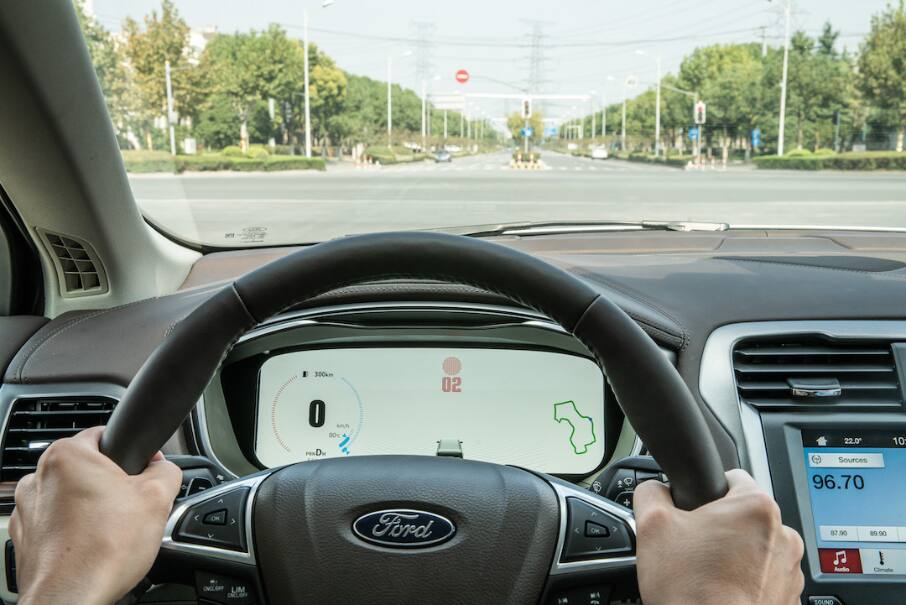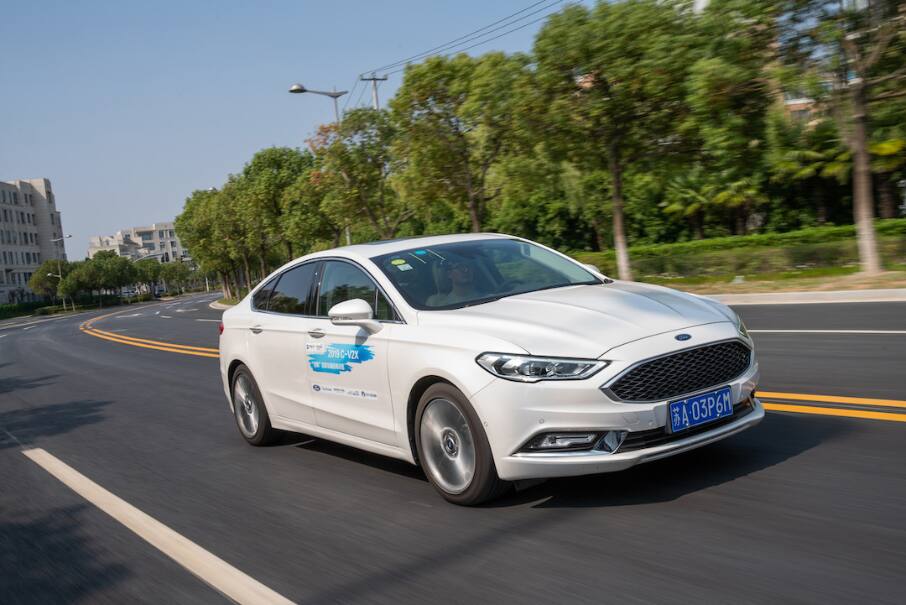 SHANGHAI, China, October 22, 2019 – Today, Ford Motor Company participated in a live demonstration of the industry first "four layers" interoperability of cellular vehicle-to-everything, or C-V2X technology application in Shanghai. The demonstration especially focused on verifying the C-V2X communications security technology, and further promoting commercial deployment of C-V2X technology in China.
As an advanced wireless communications technology, C-V2X can help make streets safer with vehicles that will be able to "talk" and "listen" to each other, pedestrians, cyclists and traffic lights, and supports the development of autonomous driving.
From October 22 to 24, the "four-layered" interoperability of C-V2X applications will be held at the Shanghai Automobile Exhibition Center. More than 50 companies, including OEMs and communication terminal suppliers, participated in the demonstration. This year's demonstration added "cross communications security systems" test to the C-V2X "three layers" (cross different vehicles, chipset modules and terminals) interoperability demonstration which Ford participated in last year.
In this demonstration, Ford teamed up with partners to jointly test vehicle-to-infrastructure (V2I) features, including Green Light Optimized Speed Advisory and Red Light Violation Warning, as well as vehicle-to-vehicle (V2V) features such as Forward Collision Warning and Blind Spot Warning. Ford also worked with partners to test the C-V2X communications security solutions to verify reliability of Ford's safety features based on C-V2X technology.
With the rapid development of intelligent connected vehicles, data security for connected vehicles is essential for ensuring driver's safety and is also a key factor in the commercial deployment of C-V2X technology. The "cross communications security systems" test refers to verifying effectiveness of C-V2X communications security technologies and solutions.
While C-V2X technology enables vehicles infrastructure, pedestrians and other traffic participants to speak the same language, it is important to securely authenticate the identity of all the participants to avoid any potential attack of hackers who may alter communication data and impact road safety.
"C-V2X will live up to its full potential when enough vehicles and city infrastructure take advantage of it. We are dedicated to working together with the industry and government agencies to promote the development and deployment of C-V2X in China, contributing to establishment of industry standards in C-V2X communication security solutions. This helps us deliver on our vision of 'smart vehicles for a smart world'," said Robert Hou, vice president, information technology and mobility platforms and products, Ford China.
The "four-layered" interoperability test was implemented based on LTE-V2X technology. Along with the evolution of cellular communication technology from 4G to 5G, LTE-V2X represents the first phase of C-V2X technology.
The test is the latest in a series of tests Ford has conducted in China to assess the performance of C-V2X technology operating in vehicles, with the goal of seeing it adopted.
This September, Ford announced its plans to introduce pre-commercial V2I features based on C-V2X technology operating in vehicles in the first half of next year. According to the plans, Ford will integrate several V2I features with SYNC+, a new in-vehicle infotainment system built specifically for Chinese consumers. The features will be available to select Ford owners in China via over-the-air (OTA) updates.
Ford is committed to produce the first C-V2X-equipped model in China in 2021, with an ultimate goal of delivering a smarter, more convenient and safer driving experience for Chinese consumers.
C-V2X technology's immediacy and reliability will be greatly enhanced with the evolution to 5G technology. Working together with the driver-assist technologies of today, including the Ford Co-Pilot360™ suite, and autonomous driving technologies of the future, C-V2X provides an additional source of data about city infrastructure, traffic, construction and emergency vehicles. Similar to the way hearing and vision work together to help a person navigate a complex world, C-V2X complements vehicle sensors such as radar, LiDAR and camera systems to enhance a vehicle's ability to operate in complex environments, potentially mitigating risks in blind interactions, bad weather, and other challenging conditions.